Friday, October 31st, 2008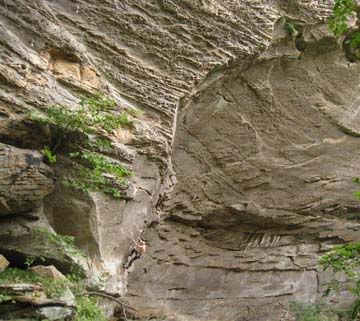 Ginley on Kaleidoscope at The Drive-By crag.
The Red River Gorge is a stunning area consisting of long beautiful routes that give a whole new meaning to the word "pump".  The area houses an abundant number of classic sport and trad lines, with a handful of boulder problems.
Best Time to Visit
The best time to visit this is the Spring and Fall with ideal temps being in the 60's (Fahrenheit) and below.  Plan on rain during your visit.
Guidebook
The guidebook for the area is "The Red River Gorge: A Rock Climbing Guide Book. 2007 2nd edition" by Ray Ellington and can be purchased at Miguel's.  New routes and areas, such as the La Bibliotech Wall, are listed online on the RRC site.
Camping
There are two main places were climbers camp: Miguel's Pizza and Lago Lindas. Both have great access to crags, located at opposite ends of the Red.
Miguel's Pizza – Cost is $2 a night to camp (for tent or car).  There are showers, in little wooden shacks that are naturally decorated with cobwebs, and cost $1.50 per 5 minutes.  Food is available, at reasonable prices, as well as a climbing shop for any items you might have forgotten at home.  As a solo traveler, Miguel's is the partner solution as crowds of 50+ visit each weekend during high season.  The downside to Miguel's is the noise, especially on weekends. Also, there are only 2 bathrooms, a problem I hear that will be addressed this winter.
Lago Lindas – Cost is $5 per night for car or tent, but includes a shower.  The facilities are a lot nicer with heated restrooms, with three stalls each, and a nice indoor shower.  The area is a lot quieter, due to the fact that population of campers are a little older (older in this case meaning 25+) and there are a lot of couples.  As a solo traveler it is definitely still possible to find partners, but you might just be a third wheel.
Food / Drink
Grocery Store: The closest grocery store is Krogers in Stanton, 10 minutes west of Slade on the Mountain Parkway.
Restaurants: I must admit that I only ate at two restaurants during my month stay in the RRG, and the only one I will really suggest is Miguel's.  Everything I tried was delicious, but my favorite pizza combo (that was thankfully introduced to me by Ginley) included the toppings of chicken (or bacon), avacado, cilantro and tomato.  Yum!
Alcoholic Beverages:  I thought Utah liquor laws were strange, but I think Kentucky might rival us.  Kentucky counties are either dry or not, dry meaning you cannot buy any type of alcoholic beverages.  I kid you not.  Miguel's, the main climber hang out, resides in one of these dry counties.  Luckily it borders a non-dry county and so a beer trailer is about 5 minutes up the road on KY-11.  Prices are reasonable.
Personal Hygiene
Showers: Showers are a non-issue when in the Red as they are completely accessible if you camp at Linda's or Miguel's.  However, if you stay at Miguel's, which has the outdoor shack showers, you can go for a real shower at the hostel.  The hostel is located off the next exit on the Parkway with showers costing $3.  Note that the hostel has extremely odd hours.
Laundromat: The closest laundromat is in Stanton.  It is located just down the adjacent street from Kroger's and is open 24 hours.  Note that for some odd reason they don't sell laundry soap.  I don't understand why they choose to miss out on this revenue generator.
The Red River Gorge Coalition
The Red River Gorge has a superb coalition, something I truly wish the Salt Lake Climber's Alliance would emulate.  The RRGC is on the pulse of what is going on in their climbing community and is actively raising money that is directly used to buy crags, allowing permanent access.  Donations can be made on their website or by attending the annual Rocktoberfest.  If climbing in this area, please consider donating to this cause!
Other
Theft: Theft is a problem in the Red.  Do not leave anything of value in your vehicle at the crag; rather keep these items in a vehicle back at camp.
Torrent Falls Registration: Only a handful of climbers are allowed in Torrent Falls on a daily basis.  In order to climb there you must register the day of climbing.  Registration opens at 6am, is open Thursday through Sunday and can fill up quickly.  After registration the screen prompts you to print the page, but you can write the details on a sheet of paper if a printer is not accessible.
Dogs: Two climbing crags do not allow dogs: Torrent Falls and Muir Valley.  Torrent is lax about the rule, as long as you call Dr. Bob (the owner of Torrent) prior to climbing.
Snakes: There are two venomous snakes in the area, the most prevalent of the two being the copperhead.  The snakes are docile but will bite if you (or your dog) gets too close.  They have been seen on trails, underneath crags and in the cracks on route.  Also, there were two big (4 foot) snakes (non-copperheads) lingering at The Dark Side this year.
Transportation: If you stay at Miguel's, you can completely get away with not having a vehicle and still being able to get to the crag.

Sites of Interest
The Natural Bridge – a natural arch located in a state park across the street from Miguel's.  Very beautiful and makes for a good run on a rest day.  I did the Balance Rock trail, which is quite steep, but there is another trail that is more gradual in vertical gain.  The Balance Rock trail from Miguel's door to door is probably 3.5 – 4 miles (I think).
Keeneland Horse Races – Definitely fun!  They are located in Lexington which is an hour drive from Slade.  Races only run in April and October (I believe).
Bourbon Tours – I did just the Wild Turkey tour (which I thoroughly enjoyed) but there is what is known as the Bourbon Trail that takes you to each of the distilleries.  I hear it is pretty cool.
Snake Zoo – Everyone seemed to mention the snake zoo at the rest stop, but I heard it was closed and forgot to personally check.  Might want to check it out if you are in the area.
If you have been to the area and have any additional beta (or see a mistake in mine), please feel free to comment.