Monday, December 22nd, 2008
I've noticed that the Sanuk sandals have gained quite the traction amongst climbers, most likely due to professional athlete promotion. Yet, a great comparable shoe with a social impact is TOMS shoes.  TOMS are also slip-ons (perfect for after a boulder problem or route), pricing is similar, but mostly for every pair of TOMS purchased, a child in need receives a pair of shoes. That is right… one for one.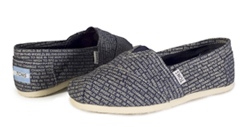 TOMS didn't carry my size (size 5) until recently.  But today I purchased my first pair in support of helping them reach their goal of giving out 30,000 pairs of shoes in 30 days.  To date, TOMS has given out 10,000 pairs of shoes to children in Argentina and 50,000 pairs in South Africa.  The 2008 goal is 200,000 pairs distributed across the globe.  Why NOT join the cause?