Friday, December 5th, 2008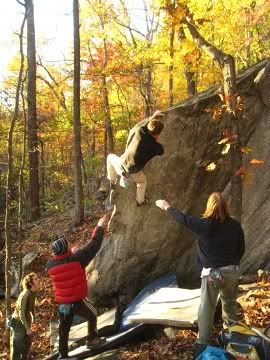 Robert on Rumble at the Bald.
Rumbling Bald is located outside the town of Chimney Rock, North Carolina and consists of granite trad lines and an expansive boulder field.  I initially hadn't planned to add this location to my trip agenda, but was pleasantly surprised when it ranked as one of my favorite bouldering destinations. The town of Chimney Rock is quaint and boasts a beautiful view of granite walls (not open to climbing, but it sounds like might be in the future) and a small waterfall.  Rumbling Bald is within 5 minutes of the town's edges.
Best Time To Visit
The best time to visit Rumbling Bald, like many places in the South East, is in the in the fall, winter and spring when temperatures are in the 50's and 60's (Fahrenheit).
Guidebook
A guidebook for Rumbling Bald was released within this last year and might be the best bouldering guidebook I have ever used.  The book includes over 900 boulder problems and is very thorough with topos and numerous photos, making boulder problem finding quite easy.  You can buy the book online from CarterBooks or directly from the author Chris Dorrity.  Other than that, you can pick it up in outdoor stores based in North Carolina (for instance FootSloggers in Boone).
Camping
Coffee Crumbs – If car camping, you are allowed to camp for free at Coffee Crumbs, a coffee shop on the main street across from Duncan BBQ.  They allow up to 7 cars, but when I was there I was the only person staying in the lot for my whole two week visit.  The coffee owner is named Angel but often the whole family can be seen in the shop, including the daily presence of 2-year-old, Adler.  If in the area (and especially if camping at this spot) please frequent this establishment.  Their food is good, their coffee delicious (especially the snickerdoodle and caramel lattes), plus they have free wifi.
There are campgrounds (Creekside Mountain Camping and Hitching Post Campground) around but the cost is usually $15 – 20.  However, free camping can be found along Highway 9.  Whatever you do, DO NOT CAMP at Rumbling Bald as it is strongly prohibited and can potentially impact access.
Food / Drink
Restaurants: There really aren't any good restaurants in Chimney Rock.  The best available is probably El Sureno, the Mexican restaurant located at the bottom of Boys Camp Road.  The food is ok and the service horrible.  I must admit that I really did enjoy their Sangria, but I have quite a simple palette. =)
Beverage: Beverage can be bought at the Ingles on Highway 9.  Or there is a tiki bar behind The Geneve, which is just the typical bar.
Other Coffee Shop: Another great coffee shop is Willow Creek.  It is a store with a coffee shop upstairs.  The coffee isn't as good as Coffee Crumb, but two guys named Frank and Don run the store and are hilarious (especially Frank) and kind hearted folks.  When my friend Darvell joined me in my travels, they let us camp out on the back porch of their store since we couldn't car camp at Coffee Crumbs.  It was one of the best camping spots I have had on this trip. =)
Personal Hygiene
Showers and a laundromat can NOT be found in Chimney Rock.  The closest town with these amenities is Hendersonville, located about 30 minutes away.
Rest Day Activities
Visit Asheville – On rest days, definitely check out Asheville!  What a fab city, that I definitely rank in my top 5 favorite cities.  This liberal city houses artists, great musicians and numerous fabulous restaurants.  I suggest Wasabi for sushi, The Sunny Point for breakfast, and the Noodle house (I can't remember the name) on Broadway.  A local band I saw was The Firecracker Jazzband. They were superb!
Other
Movie Rental – The closest movie rental place is Ingles on Highway 9, but they do carry only recent releases.
Climbers Coalition – The local Coalition for this area is the Carolina Climbers Coalition, who were instrumental in keeping Rumbling Bald open to climbers rather than being developed.  Please join and consider donating if visiting the area.
If any of you readers have additional beta, please feel free to comment or email me.