Thursday, October 2nd, 2008
Shaft and I share a birthday weekend (our birthdays being only a day apart) and so have celebrated together the past two years.  Last year a crew of our friends headed down to Joes Valley for a weekend of bouldering with this year being spent striving to complete personally set birthday challenges.
For Shaft's birthday we completed 41 boulder problems in Price and Joes Valley, split over the 16th and 17th of August.  Our range of problems was from v0 to v4, with an outlier v5 and one v7.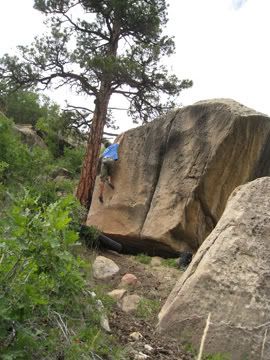 Shaft at the Price Boulders.  I spotted a desert whale here… he, he, he.
Me on the classic Riverside Rail.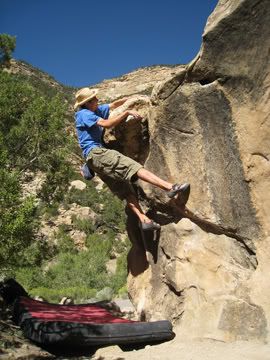 Shaft rockin' the mandatory cowboy hat on the warm-up.
The 18th was my birthday. Even though I had spent the previous two days bouldering I wanted to complete my birthday challenge of 28 routes in a day.  Prior to this birthday, the most routes I had done in a day was 10, so 28 was kind-of a big reach.  I was joined by a local SLC climber, starting the day at 8:30am and finishing at 10:30pm, with only an hour break for lunch.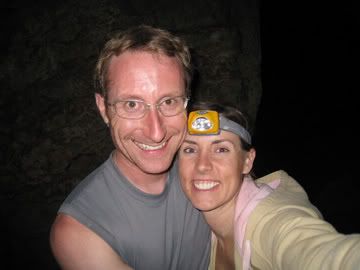 Real smiley after the completion of all 28 routes!
I must admit I was real fortunate to have a climbing partner psyched to help me with this challenge and who willingly hung all the draws, especially since I was very powered down from the previous two bouldering days.  Our routes ranged from 5.6 (including all 3 pitches of Steort's ridge) to 5.12b (Right Pile), mostly sport routes with a handful of trad lines.
Yes, this is a CHART of my routes.  I work in finance… what can I say?  I like excel.
By the time the night of the 18th rolled around I barely had enough energy to eat 2 pieces of pizza and take a couple sips of beer.  What a fantastic birthday weekend!