Tuesday, September 9th, 2008
Lately I have been thinking a lot about travel (considering it is my current full time focus).  It is extremely helpful to receive beta from fellow travelers or locals prior to a trip.  In hopes of returning the beta karma, I thought I would start posting up trip beta from places I have visited or lived.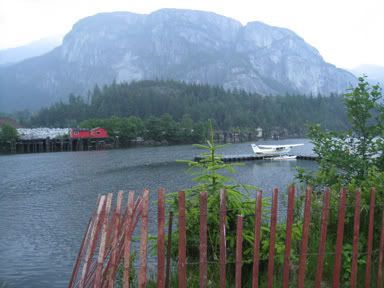 Since my most recent big trip was to Squamish, I will start there.
Guidebooks
Three guides are currently available for the Squamish area, all with their own distinct purposes.  If looking to do a mix of classic routes (sport and trad) plus wanting integrate some bouldering, definitely get the Squamish Select by Marc Bourdon.  If wanting to stay right in Squamish itself and climb mostly around The Chief, buy The Climber's Guide to Squamish by Kevin McClane.  If strictly bouldering, buy Squamish Bouldering by Marc Bourdon and Scott Tasaka.  I happened to have both The Squamish Select and The Climber's Guide to Squamish.  Shaft and I were doing a mix of climbs, and though it was helpful to have both, I really only needed the Squamish Select for the routes we wanted to do and the length of our stay (2 weeks).  Yet, I must mention that  The Climber's Guide to Squamish included a great history of the area and the Chief.
Camping
Chief Campground – most popular campground for climbers.  Cost is $10 a site for drive in sites, which can be shared with up to 4 people, and I believe free for the walk-in sites. It is good to note that the campground gate is shut from 11pm to 7am.  Also, it was really helpful to have a tarp and some cord to shelter items from the rain.
The Sound – there is free camping if you want to camp out of bounds.  However, run-ins with giant sea creatures can become a reality.

Food / Drink
Howe Sound Brew Pub – great food, especially pizza.  They have great daily specials that the server never seems to mention, so remember to ask.
Mountain Burger House – great hamburgers, great price.
Eagle's Nest – this restaurant is a little out of the way, but is a great place for a nicer dinner if getting tired of bar food or camp pasta.
Sunflower Bakery – the usual bakery. Nice change from the usual oatmeal for breakfast.
Alcoholic Beverages – Note that it is VERY expensive to buy alcoholic beverages, especially beer, in Squamish.  Customs allows one case of beer and 1500ml of wine to cross the border.  It is very wise to bring this in with you.
Personal Hygiene
Showers – The Recreation Centre is the best place for showers.  Cheap, fairly clean, plus includes a hot tub, pool and steam room if wanted.
Laundromat – The laundromat is a little tricky to find as it is nestled in a shopping center.
Other
Gasoline – Fuel is also very pricey in Canada, so once again fill up prior to crossing the border.
Internet – The adventure center offers free wifi if you have a laptop.  If not, there is an Internet Cafe on the main street.
Currency – We had zero problems with currency and/or the dollar being accepted.  However, few places take the American Express card.
Theft – Theft was surprisingly a problem in Squamish, even at the Howe Sound.  When climbing at the Smoke Bluffs, park a little south at the Adventure Center rather than the designated parking spot as your vehicle will be safer.
If you readers have any beta of your own, please feel free to comment.